There are situations in life when there is no time to waste. Sometimes you need to be able to respond quickly to the situation. It is possible that you have to move fast. When we speak of an urgent removal we at Holland Movers mean a removal that can be carried out at short notice.
Also in the weekend and at night if required. How this works and why someone would want to move fast we will explain on this page. Is there no time to lose? Then contact us immediately to start the move.
Why choose an emergency removal?
For many people it is incomprehensible that someone would want to move within a week. In practice, it is often not a question of 'wanting' but 'having' to move. An urgent move is not something you plan but something that happens to you. Here are some reasons for a quick move.
1. Moving quickly in the event of a death
When someone dies, it is not the case that the entire household needs to be cleared out immediately. In the case of an owner-occupied home, there are all sorts of things to take care of first, such as checking the legal heirs and the details in the purchase contract.
But the next of kin have to arrange a lot in the meantime, which costs time and energy. Removing or moving the household effects is not the highest priority. There are many emotions involved in the death of a loved one and we would like to be the first to wish the bereaved much strength in this period of mourning.
As an experienced mover Holland Movers can relieve you of all your worries during an emergency move after death. From packing to offering goods at thrift shops, we are happy to provide an appropriate solution in all possible situations.

2. An urgent move due to divorce
Another difficult period is a divorce. Not all divorces are amicable and it may be necessary to take immediate measures. If one person stays behind, possibly with children, while the other person moves out immediately, a lot has to be arranged in a short time.
To ensure that this process runs as smoothly as possible, it is good to work with a service provider who is neutral. This is not a situation in which family members or friends cosily carry half of a sofa to the removal van; this requires a more delicate approach.
Holland Movers can always be called upon for a quick move during a divorce procedure. If required, we will consult with both parties separately in order to prevent friction between former partners as much as possible.
3. Leaving the house quickly because of an eviction
Sometimes residents are forced to leave their homes. This may be due to a personal conflict, rent arrears, breach of contract or simply a concurrence of circumstances. Whatever the case may be, we do not judge.
As movers, we are ready to tackle problems and offer solutions. If there is one owner of the property and another owner of the household effects, it will be determined beforehand who is entitled to make decisions concerning the emergency move.
It is of course not the intention that someone arrives at home only to find the house empty. Because our team is available 7 days a week, we can act quickly, discuss matters and make well-considered decisions.
4. Emergency relocation by offering new opportunities
An urgent move certainly does not always have to take place because of an unpleasant event. Perhaps that dream job abroad has come through at the last minute, or perhaps a new love is in the picture and you want to start a new chapter in your life quickly.
Why wait if you can move within a very short period of time? Contact the specialists of Holland Movers, we are also available in the weekends. We have several plans for fast moving throughout the Netherlands.
We can even carry out our work at night, which not only ensures a quick removal but can also be pleasant in terms of privacy. Please feel free to inquire about the possibilities and rates.
How to move fast?
A standard household will experience a removal several times in its life. At Holland Movers we deal with this on a daily basis. On the one hand this means that packing, unpacking, lifting and transporting have become routine for us. Yet this certainly does not mean that fast moving has become assembly line work.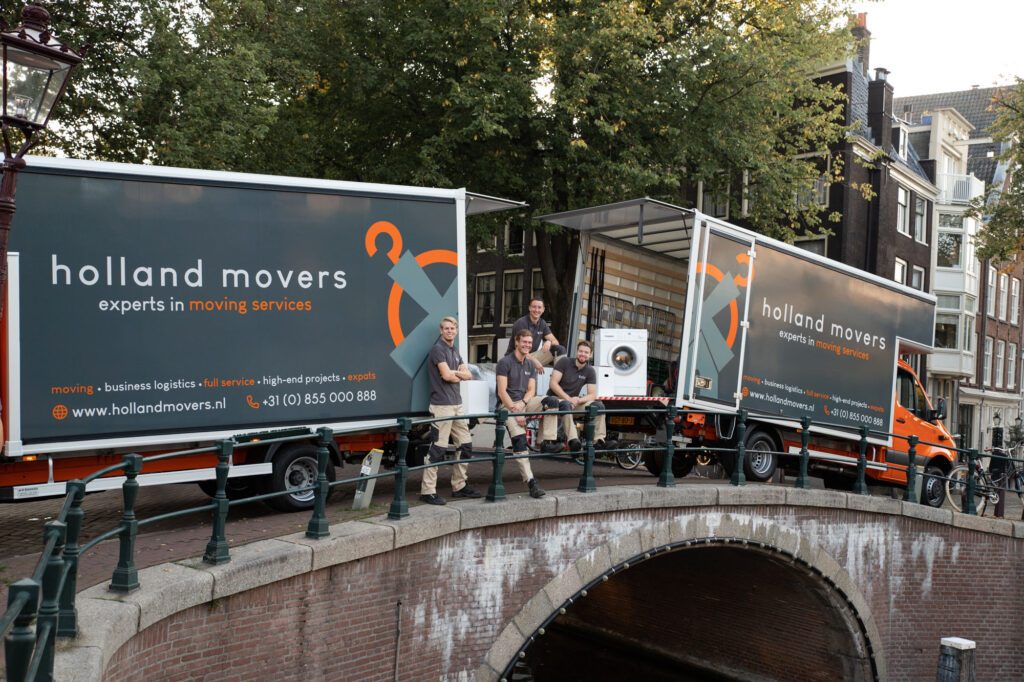 It is precisely by providing customised services that it is possible to switch quickly and make well-considered decisions. After all, working fast does not mean working sloppy. For example, time can be saved by working with more people. Several actions can then be carried out simultaneously.
It is also possible to plan the move during the night or in case of absence. This way you can leave home at any time and return to a familiar environment less than a day later at a different location.
Questions are free. Feel free to ask Holland Movers for all possibilities for an urgent removal without any obligation.
""Outsource your removal completely and relieve yourself of all worries thanks to Holland Movers"."
Holland Movers is the right partner for a professional removal. Whether you looking for a moving company in Utrecht, moving company in Amsterdam, moving company in Den Haag or removal company in Rotterdam, we can always be of service to you.
Quality. Flexible. Safe.
At Holland Movers your wishes are always central. We always take the time to discuss your move and your wishes with you carefully and extensively. This way you know exactly what you can expect from us and we are fully aware of your expectations. This way you will not be faced with unpleasant surprises afterwards.