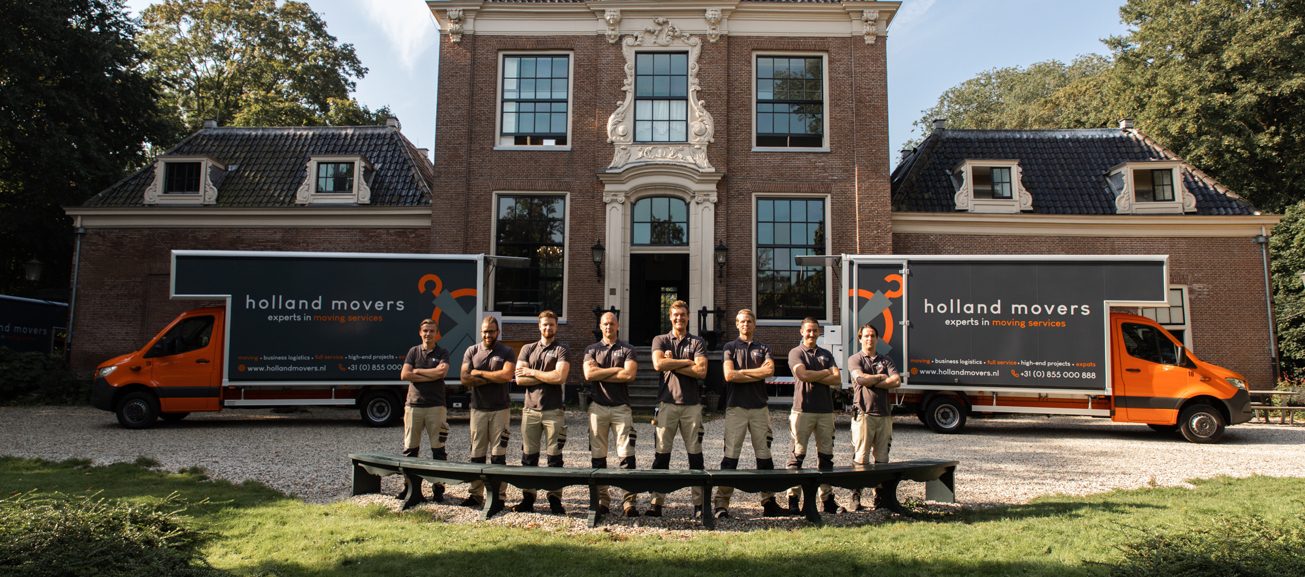 Holland Movers is a renowned moving company in the Netherlands with decades of experience. Over the years we have steadily expanded our working area and today we offer our services for both your national and international relocation. From a private move to a corporate move for small companies, multinationals and organizations: you can count on our expertise throughout the Netherlands and all of Europe.
It is our passion to offer you high quality moving services. We focus on the luxury segment and guarantee our discreet relocation service. We would like to introduce ourselves to you by briefly discussing our working method, our characteristics and our team.
This is also reflected in our method.
We stand for a relocation experience without having to worry about anything.
Our method
Our way of working is characterized by flexibility. This flexibility is indispensable to be able to guarantee one of our greatest core values: the wishes of you as a customer are always central during your move. The flexibility of our working method is reflected in the possibility that you can always change data during the relocation process. An adjustment to the relocation date, the size of the household effects to be relocated or the desired relocation material is always possible at Holland Movers. If you have any questions, for example about the costs of our moving company, you can always contact us. Our specialists are happy to answer all your questions.
"A large number of desks and workplaces was no challenge for Holland Movers, as if they do it every day!" Ron Beuling
Personal Contact
Fixed custom price
Experienced movers
Representative team
Sufficient material
Everything packed securely
Personal accountmanager
The Holland Movers team
At Holland Movers, we want to help you create a worry-free moving experience. However, we fully realize, this is worth nothing without the commitment of our amazing team. From our super fast and professional movers to our expert moving specialists in the office – we have a team with the same mission: a worry-free move for every customer.
Our movers
At Holland Movers, all of our movers are professionally trained and certified. We also consider it very important that they win your trust with their genuine friendliness. That is why we select our movers not only on their strength and agility, but also on their ability to create a pleasant atmosphere during the move. The professionalism, friendliness and honesty of our moving team will ensure your optimal moving experience!
Naam: Arie Ensink
Functie: Account manager
Ultieme verhuistip: "Inform us in advance about any special items that require extra attention, such as fragile and costly items or art. That way we can take this into account when planning the move"
Naam: Lucas  Snel
Functie: Account manager
Ultieme verhuisanekdote: "After years of working in the hospitality and construction industries, I have been performing my job at Holland Movers with great pleasure since 2020. With my work experience, I have a good sense of what the needs of our different customers are. This allows me to provide a good service and completely unburden our customers"
Naam: Arent Westenburger
Functie: Head mover
Ultieme verhuisanekdote: "A move involves quite a lot. Good preparation by packing everything well and keeping parking spaces clear can save quite a lot in the final bill"
Naam: Raoul van Hilst
Functie: Handyman
Ultieme verhuisanekdote: "Take time to relax and enjoy your new home. Moving can be quite stressful, but it is also a new beginning"
Naam: Bas Verhaart
Functie: Head of Sales
Ultieme verhuistip: "Be critical when packing your belongings. Moving house is a perfect time to get rid of old junk"
Quality. Flexible. Safe.
Your wishes are always central at Holland Movers. We always take the time to carefully and extensively discuss your move and your wishes in this regard. This way you know exactly what you can expect from us and we are well aware of your expectations. This way you will not have to deal with unpleasant surprises afterwards.