Disclaimer
We are a Dutch company and therefore have to comply with Dutch law. The terms and conditions below are a translation and no rights can be derived from these.
Terms & Conditions
We move you professionally and as efficiently as possible. To make this possible, we have a number of general terms and conditions to make your move successful and to your liking.
Definitions: Under contractor and / or Holland Movers B.V. is understood in these General Terms and Conditions "Holland Movers" .
Client: this means the Client and any representative of the Client, contact person specified on behalf of the Client and the group on behalf of which the Client requests / books the services. In addition, the person indicated has a payment obligation and must be allowed to bear the comparable / related activities, powers and responsibilities of the Client.
Written: this also means a digital message.
When hoisting it is necessary that we can access the lifting beam, this is your responsibility.
Hoisting is at your own risk. All damages caused by hoisting are fully borne by the client. When using (moving)elevators your
belongings are insured.
The contents of the customer must be packed ready for transport (except for full service).
The contents of a removal box must be packed in such a way that loose items can not damage each other. Ladles and / or doors must also be secured. Where necessary, fragile parts must be adequately protected. The Contractor offers a range of packaging materials for this on its website.
The Client must ensure sufficient parking space for the removal vans and trailers. If you have reserved sufficient parking space, it remains the responsibility of the Client to pay sufficient parking fees. The responsibility for applying for an exemption lies with the Client, unless it has to be requested by the Contractor at the Client's explicit request. The regular parking fee must always be paid, this also applies when an exemption has been given by the municipality. If no exemption has been requested, any resulting costs will be for the account of the Client.
The Client, or the indicated contact person, must have sufficient payment options to pay the total fee of the move, instruct the movers where necessary and bears full responsibility.
The Client must be present during the entire move to ensure the safety of the goods. Items of extreme value must remain in the possession of the Client at all times. The Client is responsible for checking the loading/unloading of all items to ensure nothing is left behind. In case an item is left behind at the starting address we can not be held accountable.
At wind speeds of more than 60 km / h or other weather conditions that make the relocation dangerous, the Contractor reserves the right to reschedule the removal to a different date.
All boxes must be well closed, cabinet doors locked, loose shelves in the cabinets must be removed in
order to limit damage during transport (except for full service).
All valuables such as jewelry, money, etc. must at all times remain under the supervision of the Client.
Disassembly and assembly of furniture and/or other items must be notified by the Client in advance and will take place at all times at the Client's own risk.

With regard to gas and electricity, the Contractor only carries out disconnection/connection work at own risk. The Contractor can disconnect and reconnect washing machines and electricity but this is done at own risk. The Contractor does not drill holes in walls. These restrictions also apply to our Full Service removals.

Any agreements and / or commitments deviating from these General Terms and Conditions will only be binding on the Contractor if they have been confirmed explicitly in writing by the Contractor prior to the commencement of the removal.
The customer is responsible for the access to the moving hook.
The Client is responsible for a free passage for the entire contents that needs to be moved. This applies to all addresses that the Contractor makes on behalf of the Client.
Address changes can only be reported to the Contractor via the application form or in writing prior to the commencement of the removal. The price and time indication as provided and accepted is no longer valid if the Contractor does not contact known addresses on behalf of the Client. The Client hereby accepts all (ensuing) financial consequences.
stairway portals, including corridor, must be completely cleared before the start of the move.
For the use of the moving elevator, window frames must be made free and windows must be able to fully open.
When using / ordering, Client agrees to place the removal lift against the building. If the Client chooses not to have the Contractor view the relevant situation, the Contractor indemnifies all possible damage to the building through the use of the moving lift and / or carrying out the work.
The Contractor can (dis) assemble the windows where necessary. This must be reported in writing to the Contractor prior to the commencement of the removal.
(Dis)assembly of windows and / or doors is at all times at the Client's own risk.
The Contractor is authorized to refuse an assignment, possibly without giving reasons.
Payment must be made in cash or by debit card immediately after the removal, unless otherwise agreed in advance.
The Client always pays for the hours actually worked. If Contractor is working shorter or longer than planned, the final total amount will be adjusted accordingly.
Private individuals can not pay per invoice.
Companies can pay by invoice in accordance with the Contractor, whereby the Contractor receives a Chamber of Commerce certificate and a copy of the ID of the Client or authorized representative prior to the removal.
For every relocation and/or packaging day a minimum of 3 hours will be charged, unless explicitly stated otherwise by the Contractor.
If an item has an above-average value or disproportionate value, this must be reported in writing before the start of the removal. Examples are; precious works of art, (precious) design furniture pieces or heirlooms with high emotional value. If the Client fails to do so, the Client shall deprive the Contractor of the possibility to take the correct precautionary measures. As a result, the transport of items such as with a value as described above will automatically take place at the risk of the Client. The Contractor does not accept any liability for the items described above if it has not been informed before the start of the removal.
Sufficient manpower must be ordered or present at a move, including at least one skilled mover.
The Client or related parties such as auxiliaries, parents, family, employers or otherwise related parties and / or persons who (in) directly linked to the Client, are prohibited to induce employees of the Contractor to make an employment contract, paid work or to enter into or offer a different employment relationship with another company, with the intention of lending the employee through this other company or having paid work. If a party or person as described above offers an employment contract and / or paid work to employees of the Contractor, a fine of € 10,000.00 is imposed here. In addition, a fine is charged for each day that this offer has not been withdrawn with written notification to the Contractor of € 1,000.00 per day.
Heavy objects such as (for example) washing machines must be expertly moved with enough manpower.
The Contractor reserves the right to use extra help if there is a shortage of manpower and / or material. The costs arising from this are at all times for the account of the Client.
In the event of damage to an insured item, arising from a guaranteed risk, the compensation payable by the insurers will not exceed the repair or restoration costs of the damaged objects, as provided for in the expert report. As a result, any depreciation that the goods would have after repairs or restoration is excluded from the insurance.
In the event that the items insured by this policy constitute a pair or a series insured for their total value, the value of each object will be calculated by dividing the total value by the number of objects that make up the pair or series.
If it turns out to be necessary to initiate legal proceedings for the collection of the debt collection for collection, all costs associated with legal proceedings (such as bailiff costs, court fees, lawyer's fees and all additional and related costs) will be charged to the client.
The Contractor uses cookies and other techniques such as JavaScript and web beacons on his webshop and related sites. Because we want to guarantee your privacy and improve the user-friendliness of the visit (s) to our site, we think it is important that you know how we use cookies.
Cookies are small, simple text files that your computer or mobile device stores when you use our site / web store.
Cookies from third parties are also placed via our website. The privacy and cookie policy of the company in question applies to the use of cookies by other companies.
In case of damage, the Client must specify this damage in the presence of the movers and have this confirmed in writing, this must then be confirmed with a signature for legal validity. The liability expires after the departure of the movers.
In the unlikely event that damage occurs during the removal that requires clearing work, the time associated with this will be included in the total removal time and will be added to the final invoice.
The household effects placed in the moving van that are unloaded or lifted by someone other than an employee of the Contractor are not insured. The same applies to household effects that are not placed on the removal lift.
The moving lift will be paid for at least 2 hours, unless explicitly stated otherwise by the Contractor. If the power supply at the removal location is outdated, the Client must state this prior to the removal so that the Contractor can switch to a petrol lift instead of the electric removal lift that is used as standard. If there is no power supply or if it is difficult to reach, it is the responsibility of the Client to notify the Contractor of this prior to the removal. If the Client fails to inform the Contractor in good time that one of the above scenarios applies, all resulting additional costs will be for the account of the Client.
The Contractor can not be held liable for the loss or theft of goods of the Client.
The taking of legal measures will not take place until after the debtor has been summoned by the debt collection agency in writing at least once, unless special circumstances make the taking of legal measures necessary.
The client may under no circumstances make a set-off. Invoice must be settled at all times, regardless of whether damage has occurred. Any damage must be dealt with afterwards.
All intellectual property rights relating to the products and / or services, as well as the designs, software, documentation and all other materials that are developed and / or used to prepare or execute the agreement between the Contractor and the Client, or those resulting from it. arising solely from the Contractor.
The delivery of products and / or services does not extend to any transfer of the intellectual property rights. The Client will only receive a non-exclusive and non-transferable right to use the products and results of the services for the agreed objectives. In such use, the Client will strictly comply with the conditions laid down in the General Terms and Conditions or otherwise imposed on the Client. The Client shall not, in any way whatsoever, reproduce the products and results of the services in whole or in part or make them available to a third party without the prior written consent of the Contractor.
The Client shall not remove or modify indications of the Contractor or its suppliers regarding copyrights, trademarks, trade names or other intellectual property rights. The Contractor warrants that it is entitled to grant the aforementioned right of use to the Client and indemnifies the Client against any claims by third parties in this respect. This provision does not apply if and insofar as the products and / or results of the services have been changed and / or if these have been delivered in conjunction with third-party goods, unless the Client demonstrates in the last-mentioned case that the claims of third parties exclusively relate to have on the products and / or results of the services delivered by the Contractor.
Client must be present at all times during the loading or unloading of a transfer/storage or other (logistical) third party. It is the responsibility of the Client to check for any damage at the time of loading or unloading and to report this immediately. The claim period as stated in these general Terms and Conditions is not applicable at the time of loading and / or unloading of the transhipment/storage. The contractor is not liable if damage results from the loading or unloading of a storage. In the event of a transshipment/storage, several people have access to the relevant items, which may result in damage for which the Contractor is not liable.
If the Client has not complained his / her claim / complaint within the set period, all his rights and claims for whatever reason will lapse in respect of what he / she has complained about or could have complained about within that period. With due regard to P.38
The Contractor reserves the right to terminate the contract without any compensation being required, in case of force majeure, strike, lockout, fire, war, mobilization, flood, other (natural) disasters and any cause of delay or external factors that do not allow the removal independent of the will of the moving company; the Contractor.
For the Contractor, circumstances of fact, legal or
other nature, which – whether or not foreseeable – through no fault of its own, prevent the timely fulfillment of the
agreement or make it particularly objectionable. As such circumstances
include: strikes; business occupations; production interruptions due to
machine breakdown, failures in the supply of energy and water or fire, etc.; import, export and
production bans and other government measures; transportation barriers; fall short
of suppliers and auxiliary persons.
If a circumstance of force majeure occurs on the part of the Contractor, then
he will inform the Client of this without delay. Unless it is beyond doubt that the
Force majeure lasts thirty full working days or longer, the obligations,
the fulfillment of which is prevented by force majeure or for the Contractor in particular
becomes objectionable, and the corresponding obligations not yet fulfilled
suspended, without any right to compensation arising. As soon as there is no doubt
that the force majeure situation will last longer than thirty full working days, or as soon as the
force majeure has lasted longer than thirty full working days, each of the parties is
authorized to terminate the Agreement by means of a written letter to be addressed to the other party
statement, without any right to compensation arising.
Both parties are obliged to keep confidential all confidential information that they share with each other in the context of the agreement. Information is considered confidential if it is indicated as such or if this results from the nature of the information in question. The confidential information will only be used for the purpose for which it was provided.
If the Contractor is obliged to disclose confidential information on the grounds of a statutory provision or court order / order, the Contractor is not obliged to compensate for damage and, insofar as it concerns it, the Client is not entitled to dissolve the agreement.
Small items (such as, for example, lusters, stand lamps, pots, etc.) must be packed transported in closed boxes in advance (except for Full-Service). If this is not the case, movers may refuse to move these items or the transport thereof will always take place at the Client's own risk.
If one or more provisions from these general terms and conditions are void or voidable, the other provisions will remain fully applicable. In that case, the parties will agree on new provisions to replace the void or nullified provisions, taking into account as much as possible the purpose and purport of the original provision. Hereby Article 3:42 civil code of Dutch law remains valid.
The moving of items heavier than 100 kg is at all times at the risk of the Client. The relocation of such heavy household effects / freight must be reported in writing to the Contractor prior to the commencement of the relocation. The movers are at all times entitled to refuse these items. The moving of such items must take place with at least 3 movers.
Electronic devices must be packaged in original boxes. If this is not the case, the movers may refuse to relocate them or the transport is at all times at the risk of the client.

The Client must report items made of natural stone to the Contractor in writing prior to the removal. In this notice should be mentioned: the dimensions, the weight and type of natural stone. If no (complete) communication about the item in question has been made, the transport will at all times take place at the own risk of the Client. Items of natural stone must at all times be transported transport-worthy in a custom-made frame work.

The Client is responsible for properly securing and disconnection of the washing machine and drum. In the event that this has not happened, the Contractor is not liable for any damage to the washing machine and / or home and any consequential damage.
Applicable law and choice of law, the Contractor in Amsterdam. Dutch law applies to all legal relationships, including offers, quotations and agreements concluded between the Contractor and the Client. Disputes, including disputes that are considered as such by only one party, are exclusively subject to jurisdiction in Amsterdam, unless rules of mandatory law oppose this.
The price and time indication that the Contractor provides is fully based on the information provided by the Client by means of the application form. By accepting the price and time indication these General Terms and Conditions are automatically valid. This is also a commitment for the presence of a qualified person during the move.
Additions and / or changes can only be added in writing prior to the commencement of the removal and must be confirmed in writing by the Contractor in advance. If the relocation situation / information deviates from reality, this is no reason for complaint or compensation. The bill must be paid in all cases.
Mattresses (as well as the entire contents, except for Full-Service removals) must be packed in advance by the Client to prevent damage. If this is not the case, the transport thereof is always at your own risk.
The Contractor shall never be liable for any damage whatsoever arising from errors in software or other computer software used by the Contractor, unless this damage can be recovered by the Contractor from the supplier of the software or computer software concerned.
The Contractor is not responsible for the planting that may cause the removal of trees (high hedges, large trees, etc.) the Contractor does not cut trees or hedges. If the planting impedes the removal situation, the Contractor will at all times retain the right to move the removal and / or to call in extra manpower / material. Any waiting times of the already existing movers will be charged. The costs arising from this are at the expense of the Client.
If a large front or back garden or gallery is present, you must inform the Contractor accordingly, at least 4 working days before the start of the relocation. If this causes delays, all additional costs of the existing staff and / or any additional services / materials required are always at the expense of the Client.
We reserve the right, in exceptional circumstances, to change our planning in order to ensure a smooth process. The Contractor will notify you by telephone in the event of any changes.
We reserve the right to increase the price of working hours by 100% before 9 a.m. and on the weekend before 10 a.m., after 10 p.m., on public holidays and after 12 working hours.
If the Client does not pay within the set payment term, Holland Movers will hand over the claim. All costs resulting from this will be borne by the Client and are as follows:
– Up to € 2,500.00 15% € 375.00
– Over the next € 2,500.00 10% € 625.00
– Over the next € 5,000.00 5% € 875.00
– Over the next € 190,000.00 1% € 2,775.00
– About the additional 0.5% € 6,775.00
– With a minimum amount of € 40.00
– With a maximum amount of € 6775.00
If during the move and / or the payment it appears that the Client and / or authorized person does not have sufficient financial means to and / or refuses to pay the full total amount of the removal, the Contractor is fully entitled to (part of) the contents. to appropriate as collateral of the total amount. This seizure is subject to the retention right and can never be regarded as unlawful appropriation. By accepting the price and time indication and these General Terms and Conditions, the Client and / or authorized representative automatically authorizes the appropriation of goods as collateral if the above situation arises.
If, after 6 months have elapsed from the term of payment, the goods of the relocation are still in the possession of the Contractor, it is fully entitled to trade the goods for the benefit of (part of) the total amount due.
If due to unforeseen circumstances the rope & block, lift or any other material can not be placed or other services can not be carried out, another lift and / or more manpower and / or material can be called with the accompanying extra costs. Waiting times for the already existing movers and equipment are also taken into account and charged.
Any delay may occur due to a (previous) removal, congestion, bad weather conditions and incorrectly specified information (of the previous / current / next Client) are no reason for complaint or compensation. The aforementioned causes also form a logical extension of the given starting time.

We move through the stairs if and only if there is no other possibility. The Contractor is in all cases exempted from all liability in the event of damage to stairwells and contents. The Contractor and its employees can move household effects up to the 5th floor via the stairs. If the floor(s) specified by the Client deviate from reality, this does not constitute a reason for complaint or compensation.

We reserve the right to charge 20% more of the total invoice amount if you do not pay the day of the move.
Negligence interests and court costs will be recovered from you on refusal of payment.
Rust, oxidation and water damage caused by other weather conditions or other external causes are not covered by the Contractor's liability.
We always work with 2 skilled movers. If at the explicit request of the Client only one skilled mover is present on a removal, any damage suffered by our man or third parties will not be covered by the liability of the Contractor.
If the client decides to cancel the removal, this must be reported in writing at least 7days prior to the removal and confirmed by telephone, otherwise we will charge you 100% of the given estimate, with a minimum of €150,- total.
If the client decides to apply for a removal that will take place within 7 days it is not possible to cancel the request without being charged the cancellation fee after confirming our offer.
If the Client wishes to move the relocation 48 hours before the start, costs of € 150 will be charged. When the relocation is carried out, the Client automatically receives € 100, -, which means that the costs for moving ultimately amount to € 50, -.
In case of problems or complaints we ask you not to enter into a discussion with the movers, but directly contact the head office via 085 5000888.
Movers are never entitled to make promises. There can only be promises made by the management at the office, which are always confirmed in writing.
The Contractor is not liable for waiting times caused by incorrectly parked vehicles, even if the traffic signs have been requested by the company and / or the Client. The costs for the waiting time are always at the expense of the Client.
The Contractor is insured up to an amount of € 2,500,000.00 if the guidelines from these General Terms and Conditions and guidelines from the General Terms and Conditions of the Insurer have been fully and correctly complied with by the Client as agreed prior to the removal.
The Client is responsible for the protection of all floor parts and walls where contents must be moved, this also applies to the entire passage of the contents to all addresses that the Contractor makes on behalf of the Client. Wooden and stone floors are fragile and must be adequately protected by the Client. Damage to floor parts and walls are always at the risk of the Client.
By accepting the agreement of the assignment, the Contractor has an obligation of best effort towards the Client, there is never a result obligation.
The Contractor is not liable for any damage to the Client if this damage has arisen as a result of the provision of incorrect / incomplete information and / or unsound materials by the Client. This also includes moving boxes that are in a bad condition.
The Contractor excludes all liability towards the Client, unless it proves that damage has arisen as a result of the non-execution or incorrect execution of the assignment, caused by the intent and / or gross negligence of the Contractor.
If the Client can not be physically present during the relocation, a contact person must first be appointed. This must be present throughout the move and acts on behalf of the Client and bears all the responsibilities that this entails. This designated person also has the obligation to pay the removal immediately after completion.
The Contractor accepts no liability whatsoever towards others than the Client, and is indemnified by the Client for the financial consequences of any such claims by third parties.
The Contractor is never liable for consequential damage, loss of profit, missed savings and any damage whatsoever due to business stagnation of the Client.
Any liability of the Contractor is limited to the extent of the fee agreed for the execution of the assignment, or if the insured sum for which the Contractor has a professional c. q. Company liability insurance is taken out, lower than the fee agreed for the execution of the assignment and / or the amount of the damage, the sum insured.
The Contractor can never be held liable on account of material or physical damage, to or by the Client or to his or her helpers inflicted on anyone, even if the claim occurs on the occasion of the cooperation between an appointed person Contractor and the Client and / or his / her helper (s).
Damage to plants, paintings, aquariums, waterbeds, animals and staircases always remains excluded from the liability of the Contractor.
No more than 20% fragile materials may be transported per car.
Normal mechanical, electrical and electronic disruptions without external cause are excluded from the liability of the Contractor.
The movers always reserve the right to take a break during the move. This break will not be charged.
The Contractor reserves the right at all times to transport potting earth / plants, or items of which the movers can not guarantee safe transport and refuse animals, or the transport thereof is at the risk of the Client. This also applies to items which are hygienically irresponsible for the Contractor and its employees.
The Client is obliged to mention pets in advance. All resulting costs due to not mentioning pets are for the account of the Client.
If the Client does not pay within the set payment term, the Contractor is free to charge a penalty percentage. These additional costs are fixed and are shown in the table below.
Penalty percentages will be charged after the expiry of the payment term
0-2 weeks: reminder + warning
2-4 weeks: reminder + warning
4-6 weeks: reminder + warning
6-8 weeks: 15%
8+ weeks: after 8 weeks, the percentage of penalties is increased by 5% every two weeks.
The Contractor assumes that the Client has tools for any (dis) assembly. If this is not the case, the Contractor can rent professional tools for € 15, – (ex VAT) If this is not on the spot (for the purpose of another move), waiting times for the existing staff and / or rented equipment are at the expense of the Client.
Household effects and/or furniture older than 10 years and/or are marked as antique or if the depreciation period has passed are not covered by the Contractor's liability. The integrity and sturdiness of such items can not be guaranteed.
The minimum height of the Contractor's trucks is 3.20 meters (3.50 yards). Since the Contractor makes the estimate remotely, it is the responsibility of the Client to indicate when there is a passage that has a height of less than 3 meters and 20 centimeters. If the maximum passage causes complications with non-communicated passageways, such as gates, bridges, garages and all other forms of limited passage, the Contractor is not liable for any delay and related costs.
In the event of damage where the Contractor's terms and conditions are complied with, the Client is responsible for submitting purchase receipts to qualify for financial compensation. The current value can be determined on the basis of the purchase receipts. The current value is leading with regard to the valuation. Payment is not possible without handing over purchase receipts.
Clients cannot pay by invoice when the head office is located abroad. When the move is completed, payment will be made by pin or cash. Payment is made immediately after the move. The Client is obliged to have an authorized person present at the end of the move to make the payment.
If the contents includes rented objects, the Contractor does not accept any liability for any damage to the rented object. Rented objects come with a service contract that includes a relocation of the object. If the Client  requests Student Verhuis Service B.V. and /or it's employees to move the rented object, this is explicitly at the Client's own risk.
If the Client requests the removal for business purposes and the company is established / registered abroad, it is not possible to pay the removal afterwards entirely by invoice. The (maximum) estimate of the move must be paid 72 hours prior to the removal, afterwards the remainder will be refunded or the outstanding amount invoiced. If a Fixed Contract Sum has been chosen, this must be paid in full 72 hours prior to the removal.
If one of the addresses which the Contractor visits on behalf of the Client is a monumental building, this must be explicitly indicated in writing to the Contractor. If the Contractor has not been informed, it is indemnified in advance against any damage that could possibly be caused to the property as a result of the removal work. This includes all work that logically belongs to the moving in or out of the household effects for the Client. Since the repair of a monumental building must meet much higher requirements, the Contractor is free to take measures it deems necessary to carry out the removal work as safely as possible and without inflicting damage.

When the Client requests a Full Service relocation, the offered price and time indication consists of 2 parts, a packing part and a moving part. Two individual price and time indications are offered, each with its own final amount. If the Client has requested Full Service, but the Contractor fails to send a 2-part estimate, the assignment will automatically fall under the heading of regular relocation and not a Full Service relocation. As a result, the responsibility for the transport-worthy packaging of the household effects lies with the Client. The Contractor cannot be held liable for failure to send the Full Service part. The Client must point out that the packing part of the Full Service relocation is not stated on the price and time indication, so that the Contractor can still add it.

We only move pianos/grands from the ground floor to the ground floor. There should be no stairs/steps. We have neither the resources nor the expertise to move such an item from/to a higher floor. After the move, the piano needs to be tuned again. The move is always at your own risk.

The kilometer surcharge submitted in estimates and quotations are based on the current fuel prices at that time. Due to large fluctuations in the unstable energy market, the transport sector is forced to guarantee the continuity of business operations by means of a fuel clause. If fuel prices are (inter)nationally higher than previously communicated, we are obliged to pass on the additional price to the Contractor in proportion.
If the Client has items deposited at a waste point, the costs of the deposit will be added to the final bill, unless the Client pays this immediately. If the deposit costs have not been added to the final bill afterwards, for whatever reason, we will invoice these costs.
If the Client is a business customer, in the event of non-compliance with the payment obligation, regardless of the reason, the case will be forwarded immediately to the collection agency.
If the Client does not use our exemption service (whereby we request the necessary exemptions for a fee), the responsibility for applying for and being in possession of a valid exemption during the relocation lies entirely with the Client. In the event that an exemption is missing and/or an incorrect exemption has been requested, all ensuing costs will be for the Client. These costs may consist of the fines themselves, delay and all other costs arising from the collection process.
If the inventory goes to storage, the contractor cannot be held liable for damage that occurs during the organizing of the storage when no Full Service has been requested. Items must be stacked in storage, as a result of which the items make (long-term) contact, which means that some materials can dent / damage each other. We always recommend choosing Full Service or packing the items yourself in advance for transport. We cannot leave our protective equipment in your storage unless paid for.

If the working conditions are deemed to be unhealthy, the Client may prematurely terminate the assignment. Issues with; mold, water, garbage and excessive dust etc. fall under this category. Hours worked, including travel times, will be charged. If the extraordinary circumstances are not notified in advance, no precautions can be taken by the Contractor and the liability lies entirely with the Client, whereby all incurred and ensuing costs will be charged.

The Client is responsible for the transport worthy packaging and protection of household effects against scratch and impact damage. Sensitive parts of household effects such as large surfaces, edges and points must be protected prior to moving. The Contractor is not liable for damage to cargo or premises if the freight of the Client has not been offered transport worthy. As an example;
Improper packaging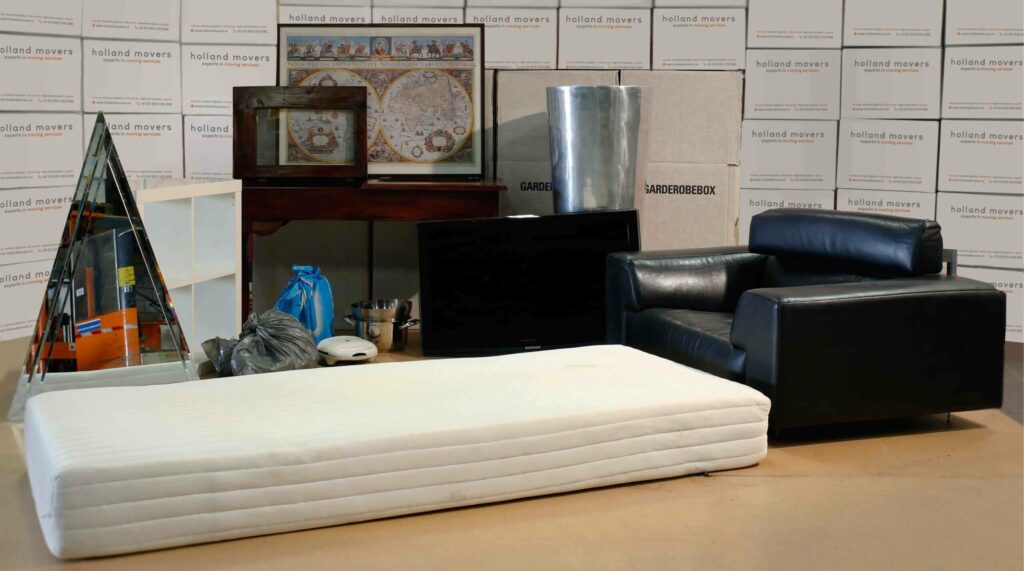 Good packaging (transport worthy)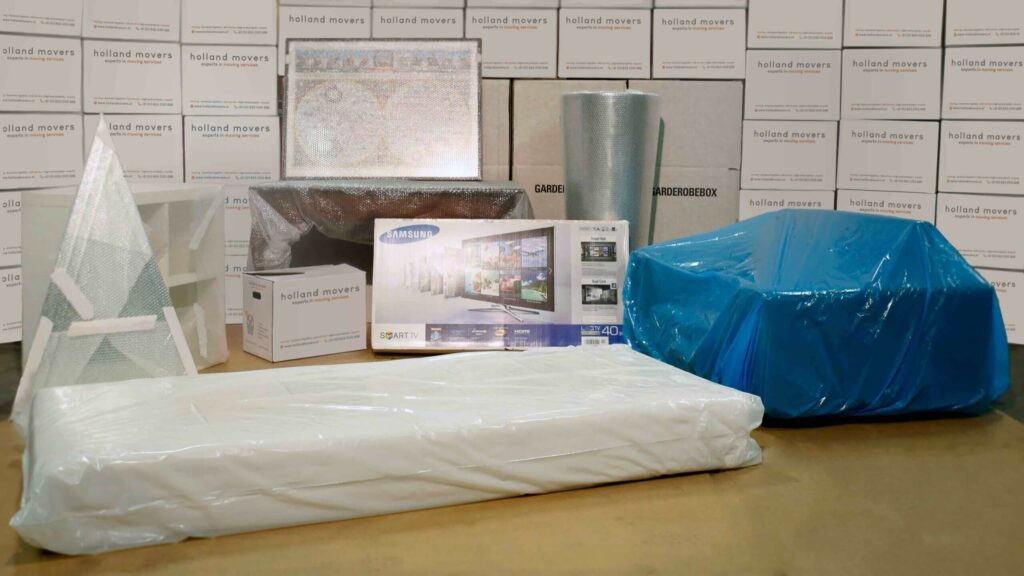 When you order your move, you automatically agree to our terms and conditions as mentioned above.