7 tips for moving heavy furniture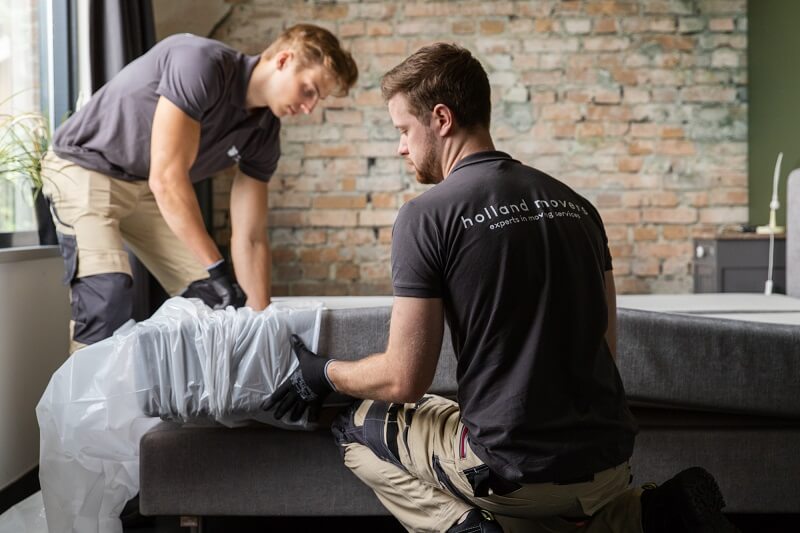 Moving heavy furniture is a speciality. It is important to do this in a safe and responsible way. Moving a cupboard is therefore not an easy task. Our movers are trained to transport heavy furniture such as cabinets and are happy to share some tips with you. This way, you can start your move prepared.
Tip 1: Empty the cupboard
Before you move the cupboard, it is essential that you get the stuff out of your cupboard. This may sound very logical, but the opposite is true.
Unfortunately, we still too often encounter situations where the closet is moved full of stuff. Not only does this make the cupboard extra heavy, the stuff in the cupboard gets damaged faster. Always make sure you remove items from the cupboard beforehand and transport them in a moving box.
Are the items fragile? Then wrap them with a protective layer. Do you want to temporarily store things in an external location? Then hire a storage unit.
Tip 2: Never lift the cupboard by yourself
With heavy furniture, the rule of thumb is: never lift alone. If you want to move a cupboard, make sure there are at least two of you. With heavy furniture, more people are actually preferable. This way, you spread the weight and avoid putting your back at risk.
Tip 3: Protect the cupboard
Due to the large dimensions of the cupboard, it is often difficult to transport it without damage. It is therefore important that you protect it properly during the move. Wrap the cupboard with protective film and make sure especially the corners are extra packed. This will prevent you from scratching the cupboard – or the walls around it.
Tip 4: Dismantle the cupboard if possible
You can make things a lot easier for yourself by taking the cupboard apart. Especially with cabinets that are large in size, it is awkward to transport it in its entirety. Be one step ahead of the fumbling and dismantle the cupboard before the move.
Do this with care, though. Don't just take out the screws: follow a manual. This will prevent you from not being able to reassemble the cupboard after the move. Keep all parts and clearly write down what it is for. This will make re-installation a lot easier. Moving other tricky objects? Read more about moving an aquarium here.
Tip 5: Know how to lift
With heavy furniture, danger is just around the corner. You quickly lift in the wrong way, putting too much strain on your back. When moving a cupboard, it is important to bend your knees and always lift with a straight back. This will prevent physical injury during the move.
Tip 6: Hire a removal lift
Do you live in a flat on the fourth floor? No worries! At Holland Movers you can easily rent a moving lift, which will make moving a cupboard even at height a snap. You do not have to lift the cupboard through a narrow stairwell, but simply transport it outside. Our removal lifts are ready for you.
Want to rent a removal lift right away? Check the options
Tip 7: Make sure doors are closed
Are you moving a cupboard? Then always make sure the doors are closed and locked. Otherwise, it could happen that the door of the cupboard folds open and your finger gets caught in it. You want to avoid that at all costs. Always be careful when moving a cupboard and take adequate precautions.
Choose an experienced full-service mover
Sure your belongings will arrive at the new location undamaged? As a moving company, we have all the experience needed to move your cupboard.
We know better than anyone how to lift your cupboard safely, so you do not have to twist your body into all sorts of weird shapes. In addition, we gladly think along with you to make your move as flexible as possible.
Holland Movers is also the right address for business removals. We transport your cabinets quickly and safely to the new location.