Moving your washing machine carefully in 5 steps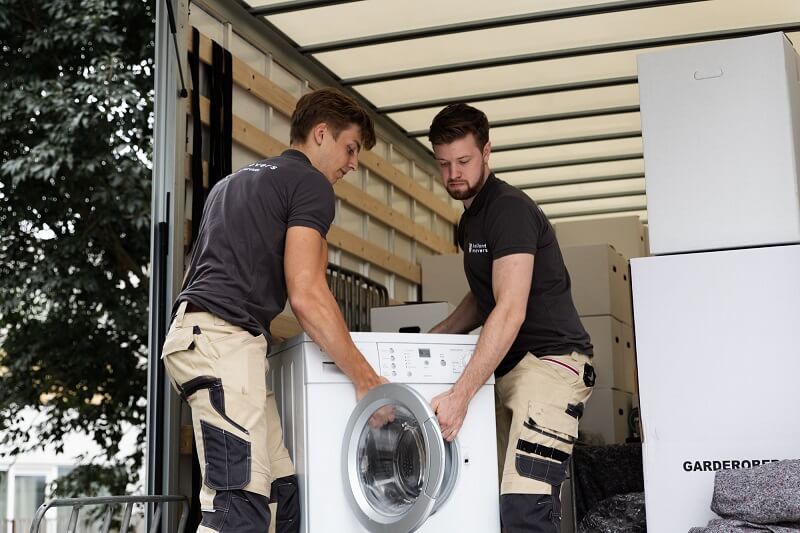 Why is a washing machine so heavy? An average washing machine weighs between 65 and 80 kilos. This is due to a concrete block, which prevents the machine from 'dancing' during spinning. It is also important to level a washing machine with the adjusting screws at the bottom. Once the washing machine is in place then there is no problem but when you move, it is a different story. With these five tips you can make sure your white goods arrive safely and functionally at the right location.
Tip 1: Prepare the washing machine
We are going to start by unplugging it. The water tap must be closed before the connection can be disconnected. The hose may still be filled with water so keep a bucket under it. Also remember to open the filter valve at the bottom to drain water from the machine.
Many people do not even know there is a filter here. The drum should be secured with transport bolts, which were supplied with the new washing machine. If these bolts are no longer there, it is also possible to ask the mover. They will probably be able to help you.
Tip 2: Safety above all
People are more precious than machines. Any choices you make should be approached from the point of view of the people involved. Think about avoiding risky situations. You'd rather have a washing machine fall down the stairs and fall to pieces than someone get trapped on a spiral staircase. Transporting the washing machine starts the moment it moves from its original position.
Place the washing machine on a trolley or carry it with two people. Always keep the appliance upright. Make sure there are no mats or cables to trip over, keep small children and pets away. And always keep communicating while moving.
Tip 3: High lifting? Hire a moving lift!
Washing machines are often located on higher floors. You can then try to move this hulk indoors. Moving the washing machine down the stairs can be tricky, for instance because of a spiral staircase or a narrow passage. If there is a large window on the upper floor then a moving lift may be a better solution.
This lift is ideal for all large objects that need to be lifted out from a higher floor, or just placed at the final destination in the house. When a removal lift is hired by an experienced removal company like Holland Movers, this will also include a specialist to operate the lift. It goes without saying that such equipment must be operated with care, and again, safety for all people present is a priority.
Contact a Holland Movers representative for an overview of the possibilities and rates.
Tip 4: Place the washing machine in the right place
When placing it in the new location, some of the work is actually done again but in reverse order. Moving a washing machine means not only loading but also unloading it, not only carrying it downstairs but also lifting it upstairs.
Check the situation in both locations beforehand and determine the right way to proceed. For instance, there are open staircases, spiral staircases, stairwells or lifts with different heights and widths. If the washing machine goes out with ease at the departure location but does not fit at the destination, it is good to take this into account in advance.
When moving a washing machine, it is also possible to set up a room as a laundry room on the ground floor or in the basement. This can save space in the bathroom which opens up new possibilities. Just make sure there should be a water connection or the option for a new tap.
Tip 5: Outsource the entire move
Apart from white and brown goods, there are obviously many other items that need to be moved. Instead of reworking the list of points of interest for every dishwasher, television, fridge or corner cupboard, it is of course possible to outsource the entire move to the specialists at Holland Movers. This will save you a lot of worry because everything will be taken care of for you.
Discuss in advance with the personal customer manager which work is required. For instance, you can stipulate that the small items will be packed by the residents in advance; it is also possible to have the entire household contents packed, transported and unpacked by professional movers. It then goes without saying that moving the washing machine is also part of the job. Not only in the house does this offer advantages, especially transporting household goods is much easier when this is done in a large moving van by experienced personnel.
Can an old washing machine be disposed of directly and a new model take its place? In that case, ask Holland Movers about the possibilities for disposal of products and residual materials. This way, you are completely taken care of from A to Z.