Prevent moving-stress with our 7 excellent moving tips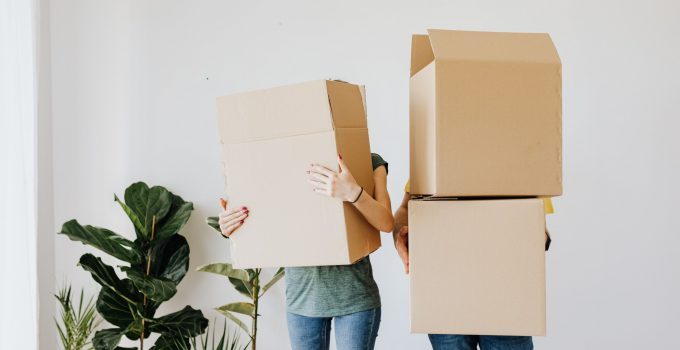 Time to pop the champagne, because you managed to get your dream home! But often the hangover quickly follows: moving is not a matter to take lightly. You are entering a hectic period. Moving can cause a lot of stress. After all, countless things have to be arranged during the preparatory period and on the moving day itself. Every move has its own challenges: are you going to live bigger or smaller? Do you only have overlap between the houses for a short time? Or are you moving abroad? All of these factors can cause additional stress.
You can never completely relieve stress when moving – even if it is just the healthy nerves you feel when you move into a new home – but you can significantly reduce the stress. Below we give you some tried and tested moving tips. In this way, your move becomes a moment of joy instead of excitement.
Our 7 Tips to avoid moving stress
Prevention is better than cure. Therefore, the essence of all our tips is actually the same: create a planning. This will allow you to foresee and identify bottlenecks early on and smooth out any unexpected bumps in the road more easily. Read our 7 practical, tried and tested moving tips below.
Tip 1: Draw up a schedule
Remembering things takes energy. That is why it is a good idea to check well in advance what you need to arrange and when. Then write down all those action points and plan them, paying attention to urgency and practicality. After all, there's no point in having your entire kitchen equipment packed up in boxes weeks in advance. But you might want to start with the hobby room.
What tasks can you include in your schedule? We give you some ideas:
Address changes: write down which address changes you have to notify and find out when you have to do so. Keep track of the authorities you receive mail from and the associations and organisations to which you are subscribed. We recommend having a weekly time slot for address changes, so that you are not distracted daily by other tasks.
Superfluous items: Choose a time when you will get rid of any items you do not want to take with you to your new home. In the run-up to that time, plan times when you will sort out which possessions you no longer need.
Packing: Strategic packing takes away a lot of last-minute stress. For example, you can start packing books, seasonal clothing, collections and hobby items into moving boxes weeks in advance. Also arrange for packing materials, such as moving boxes, moving blankets and foil, in plenty of time.
Dismantling: although you will of course still like to dine at an upright dining table the evening before your move, you can make an inventory of the furniture that you can dismantle well in advance. Extra tip: keep the screws for each piece of furniture in a ziplock bag and attach them to a piece of furniture with tape.
Do you suddenly realise that you have yet to notify your children's hockey club of a change of address? Or do you happen to drive past a good destination for the furniture you want to get rid of? Then write it down immediately and incorporate the task into the schedule as soon as possible. That way, you won't forget spontaneous ideas.
Tip 2: Start packing at the time
As mentioned above, strategic packing planning is crucial for a stress-free relocation period. You may have packed a student residence in an evening or two, but a mansion will fit more possessions than you think. Also pay attention to the time that goes into selection work: a move is the perfect time to muck out that attic full of boxes with memories from your parents and children's drawings.
In addition, we recommend that you write on each moving box in which room in the new house the box should be placed. You can also work with colored labels or notes. This way you avoid unnecessary searching and you have to move as few boxes as possible after the moving day. Did you know that a full-service relocation also relieves you of packing moving boxes? This gives you the opportunity to focus on arranging more important things.
Tip 3: Create a "Survival kit"
How annoying is it if you can't take a shower after a long day of moving because your towels are stored in one of the many boxes? Or if you want to get back to work full of energy the next day, but you don't have clean clothes to hand? It is very practical to put together a "survival kit" with the things you need to spend one or two nights in your new home without having to open all kinds of boxes. Consider, for example:
Toiletries
Towels
Clean clothes
Any medication
Tip 4: Measure your furniture
To measure is to know, and the sooner you know it, the better you can respond to it. Measure well in advance which of your furniture does not fit through the front door. Maybe your corner sofa can be lifted out of the house through the backyard, but what are you doing with your antique king size bed on the second floor? Renting a moving lift can help in this case. With a moving lift you can also be sure that your furniture will end up in the right room in your new home without any damage.
Tip 5: Clear your calendar
The period around the relocation date is hectic anyway. That is why it is wise to empty your agenda as much as possible to create space in your head. Your friends will understand if you don't come for a glass of wine on a Friday, because you prefer to pack boxes or just sit quietly on the couch. Ask your employer whether relocation leave is an option. Every extra free moment is included in this busy period.
Tip 6: Plan time for cleaning
You are often expected to make your old house "broom clean". But who wants to clean a house from basement to attic after a long day of moving? It is therefore wise to schedule time for cleaning your old home. You can of course clean areas you no longer need, such as the hobby room, before the relocation date. Also, don't forget that hiring a cleaning company is an easy solution.
Tip 7: Spend your relocation
Relocation stress is perhaps the least pleasant thing about a relocation. That's why it's important to limit stressors. A moving company is ideally suited for this. By leaving the arrangements to professional movers from Holland Movers, a burden will be lifted from your shoulders.
Your personal account manager can help you draw up an extensive relocation plan. Our last tip: go for complete unburdening and choose a full-service move . No packing boxes or dismantling tables, but a stress-free moving period that you can fully enjoy. The champagne can be opened again!